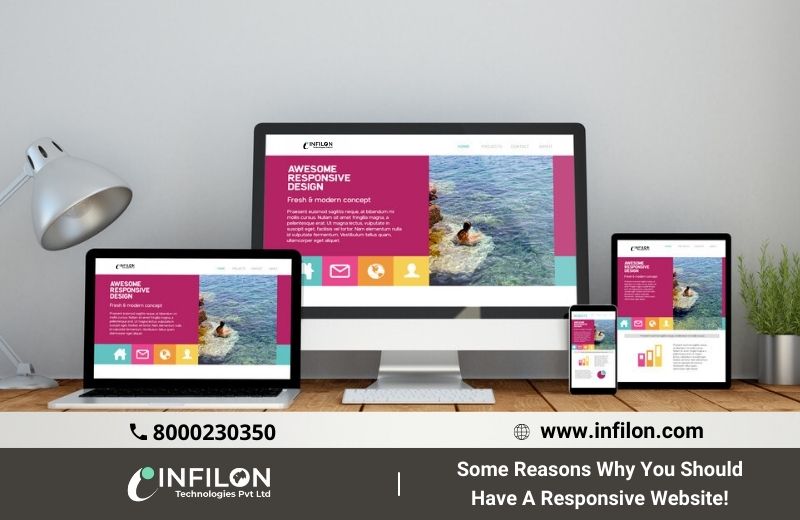 Nowadays we take better care of our smartphones and electronic devices than ourselves!
Do you remember an ill-fitting shrunken version of a desktop site on your smartphone in earlier times in which you had to pounce and pounce to see anything? It was the worst experience ever, isn't it? In today's world, it is extremely important to have a website that is optimized for smartphones, tablets, and other small devices, without which the brand starts to divert from leads and sales.
According to the survey, if more than 40% of users get a poor user experience on their smartphone, they have visited a competitor's website. Recently, the total number of smartphone users in the world is more than 2.5 billion! Websites that are not optimized for smartphones are experiencing a decline in their search engine rankings, which means they are not being found online! Nearly 60% of online mobile searches now come from mobile phones!
Want to get familiar with responsive web design and its benefits? I myself have taken advantage of this as the CEO of one of the best web designing company in Ahmedabad.
So, what exactly is responsive web designing and what exactly do Web development company in Ahmedabad do? It is basically creating a dynamic system in which a website reacts to the size of a user's device and adjusts accordingly.
The responsive website has a fluid and flexible layout that adjusts to the size of the screen. The importance of responsive web design is that it provides a customized browsing experience.
The main advantage of a responsive web design layout is that it guarantees that users with any smart device will have the most consistent and well-adjusted experience on your website without facing any size constraints.
Website accountability is also a great way to refine the content of your site, ensuring that users with small electronic devices are viewing the important and most essential information on your website more prominently.
With the Google algorithm update, a responsibly designed website also increases your website's chances of appearing on search engines as the algorithm prioritizes websites that are more mobile-friendly. So a well-made mobile-friendly website will appear more on search results.
It is easy for the customer to browse on their mobile device, resulting in generation, sales, and conversions!
A large percentage of companies are still not optimized for mobile and tablet devices. It helps to always have a responsive website to stay ahead of the competition.
Having only one responsive site optimized for all mobiles and tablets reduces time and cost on website and content management. All the leading website development companies in Ahmedabad have now started focusing more on on-site optimization.