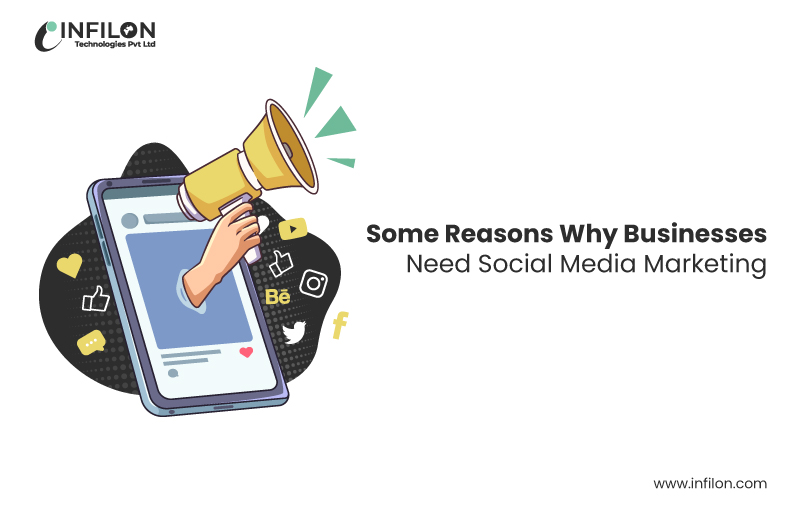 Some Reasons Why Businesses Need Social Media Marketing
Social media marketing is one of the most powerful tools in digital marketing that can be very effective with the right efforts. If you implement the right strategies with the help of professional digital marketers then it can be beneficial for your business in many ways. With a growing audience on social media platforms such as Facebook, Instagram, Twitter, Snapchat, and others, there are plenty of opportunities to grow your business. If you are not visible and accessible on these platforms, then you are missing out on the big game because your contestants are already interacting with their potential consumers.
So, if you are wondering why your business needs to bring social media marketing to its marketing plans, here is the list of top reasons how it can be beneficial in your growth.
Improves Online Visibility
With millions of people on social media, your business profile on these platforms will definitely increase your online visibility. A powerful social signal on the Internet also improves your authority in search engine rankings. Your potential audience can reach you easily through your social media profile. With the increase in online visibility and search capability, you will get more opportunities to sell your products and services with higher conversion rates.
Increases Brand Value
Many people search for a business on various social media platforms to learn more about it and how reliable and credible they are. By interacting regularly with your audience, you can influence your brand to generate more user engagement. It increases brand awareness among your potential consumers which helps you stay ahead of your competitors.
Target The Right Audience
This is one of the most favorable benefits of social media marketing that businesses use to reach potential consumers. By using your social media posts, promotions and campaigns, you can target the right audience based on different groups such as age group, location, interest, relationship status, and many more. Your post will reach the people who mean the most to your business.
Increase Engagement & Conversions
When you reach the right audience, they are more likely to engage with your offerings and services. This will boost more conversions and sales to increase your profit. Many businesses use social media campaigns to boost their ROI on their marketing effort. With a high conversion rate and positive leads, your business will grow rapidly.
Builds Brand Loyalty
Active social media profiles are considered more loyal clients. This shows that the owner of the profile is not only a building interested in the connection, but also takes the time to share quality information.
Helps to Increase Traffic to Website
Attractive visuals in your social media posts increase engagement which helps the visitor to follow your profile or click on the website link attached in the description. Social media marketing is a great source to increase traffic to your website. Organic Search – Search engine optimization, traffic to a website can be achieved using pay-per-click and other digital marketing tools. But in the current era, social media is the fastest yet simple marketing technique that helps people to connect and reach your website easily.
These are some of the most common reasons how social media marketing can boost the growth of your business. With the right efforts and professional expertise, you can easily and effectively build and promote your brand value on the Internet. If you are looking for professional and experienced social media marketing services. We have a team of qualified and experienced digital marketing experts who can help you launch your social media marketing campaigns easily.
We are a leading digital marketing company covering a wide range of services including SEO, SEM, website designing, social media optimization, and more. Get tips on the best marketing techniques.