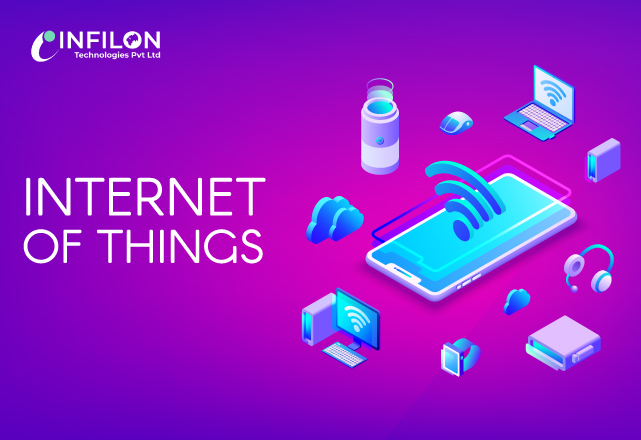 IoT – Application Development
Problem Solving Possibilities For The 21st Century
We have had three industrial revolutions till now. The first one was all about steam engines and textile machines. The second one introduced automobiles and electrification. The third one brought forth electronics and high speed communications. The next one i.e. fourth revolution is definitely about the unstoppable rise of IoT.
Internet of things, simply put, brings together humans and artificial intelligence. Till now, the physical world hasn't altered beyond recognition. Machines were machines and humans logged into them for accessing services. But with IoT, A confluence of electronic devices, data, and self-learning algorithms(software) is on the anvil. This all round digitization creates cyber physical systems and transforms our experience of reality.
We already have mechanization, automation, and robotic technologies. Yes, They require electric power, but they can also be digitized.
Software and communication technologies have also progressed rapidly. Big Data, Cloud Storage, and Analytics are making rapid strides.
IoT is the confluence of hardware, software, and intelligent processing. Hardware also includes industrial machines, sensors, actuators, and smart gadgets.
In the physical world, Data from machines is processed for efficiency. For e.g., A smart garbage bin can alert the clearance team (when it is full, via SMS).
A sophisticated bin can be fitted with scanner and pay-per-use swipe/smart cards. Security and effectiveness increase with controlled access and digital payments.
So, What Is IoT Digitization?
Digitization is fundamentally large scale computerised information processing. When data is collected and analysed from smart devices, we get IoT. Actually, It also involves smart algorithms, communication pathways, and feedback mechanisms. We can also visualize IoT as a combination of industrial infrastructure, Cloud platforms, and of course Applications.
Social, mobile and ubiquitous computing have gained a lot of ground. So the Industry, Banks, Governments, and NGOs can come together. A large scale IoT Ecosystem can be created by bringing together cyber and human "things". Smart cities can rise along the information superhighway of Internet. And Governments have to play a major role –
The IoT possibilities are largely dependent on data and smart devices. Both public sector and private corporations have a major role in them.
Concerns naturally arise wherever data and communications are key. Issues include data privacy, financial security, and resource safety.
Governments have to legislate and protect their people and wealth. Technology-intensive lifestyle should not lead to machine dependency.
Private businesses aspire for profits, while public sector seeks welfare. A balance has to be struck between competing interests and human well being.
Smart cities, digitized medical care, and precision farming are enticing. But who controls the policy, protocols, and distribution mechanisms?
A shared approach such as public-private partnership yields good results. Public sectors that serve national interests should also be actively involved.
Pushing for advanced technologies can lead to negative consequences in the future. Privatization of energy efficiency, citizen safety, national defence, etc., is a big risk.
Wars And IoT Application Development
IoT has not really taken off on a large scale, discernible way yet. Even within existing IT infrastructure and globalisation, problems persist. Trade and information wars, media manipulation, voting frauds, banking scams, etc., are well known. With the spread of IoT, Nations can accrue multiple benefits.
Some Positives
Increase government transparency through streamlined IoT systems.
Efficient, prompt agricultural policy changes based on seasonal data.
Earthquake and natural disaster detection and public warning systems.
Safer and faster transportation using GPS, traffic data, and hi-tech vehicles.
The next level of industrial automation, business and banking intelligence.
Large scale digitization and connectivity across various related sectors.
Automation and AI in administration, law, policing, and grievance resolution.
Machine learning based healthcare analytics to increase life expectancy.
Reduce the cost of government services without compromising reliability.
Judicious use of sensor technologies to lower power costs and bills.
Reliable, networked storage systems on the Cloud for complex analyses.
Increased usage of networked multimedia to raise quality of education.
Efficient application of drones and cameras during disaster relief operations.
High end sensor technologies to reduce industrial costs, risks, and accidents.
Note: With pros come the cons. Human technological awareness is crucial for the success of cyber-physical systems in all walks of life. Government legislation, regulatory standards, and overarching control mechanisms are needed for security and IoT system integrity.