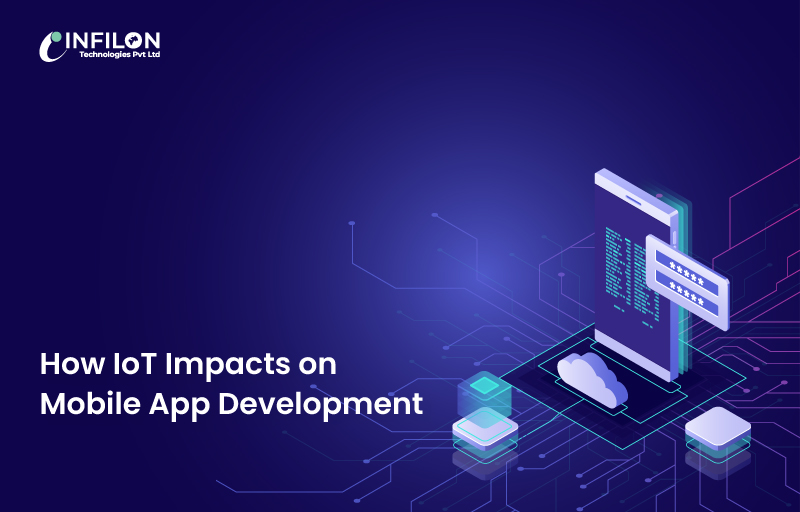 This is the age of the Internet of Things (IoT) and needless to say it has a big role to play in the world of application development. The Internet of Things, or "IoT" for short, is a system of interconnected computing devices that transfer data over a network without the need for any human-to-human or human-to-computer interaction.
As the number and reliance on IoT objects, budgets, and networks continue to grow, this is the right time to understand the connection between IoT and mobile applications. Let's dive into:
Impact of IoT on Mobile App Development For improved security
Data is always stored in the cloud and transmitted from there to many other devices. When devices are connected to each other, there is always the possibility of an account being hacked or information being stolen which can be sensitive and confidential. Data security in IoT is the biggest concern for developers. The IoT mobile application enables developers to use strict security protocols and data encryption methods to protect data and prevent leaks of sensitive information.
Impact of IoT on Mobile App Development for Better Connectivity
Regardless of work and industry, businesses need tools that are well-connected to perform their day-to-day tasks seamlessly. IoT can help mobile app developers develop apps featuring multiple connectivity options. For example, IoT continues to improve connectivity between devices, mobile applications, cellular networks through the system, NFC, Wi-Fi, Bluetooth, and other modern and traditional connectivity options.
Impact of IoT on mobile app development for enhanced convenience
Gone are the days when app developers had to put a lot of effort into the development process. Thanks to the Internet of Things (IoT) things are much simpler, easier, and better. Devices can now automate, streamline, and manage tasks without human assistance. In addition, IoT mobile app developers can create user-friendly apps that can extend the overall user experience in the long run.
Impact of IoT on mobile application development for niche-based
IoT may be a popular term, but it is still a specialized topic that many are unaware of. Niche-based IoT application development is unique, new, and requires proper knowledge of IoT-related concepts. To stand out in today's competitive times, it is necessary to outsource the work of a top mobile app development company like Infilon Technologies, which has an in-house team of experts. As the IoT domain is constantly changing, app developers need time to stay updated and thrilled to learn new things and succeed.
Impact of IoT on mobile application development form cost-effective
I.O.T. One of the biggest benefits of Cost Fur is cost-effectiveness. This is very useful for automating tasks, achieving more engagement, and enhancing the overall brand image, thus enabling you to achieve higher ROI. However, it is important to note that the integration of IoT Technology of G will slightly increase the overall application development costs, but it promises better returns after a while.
Conclusion of ITs influence on mobile application development
IoT is a revolutionary new approach in technology that makes life easier and better in many ways by letting you do your daily activities with interconnected devices on the internet. So, Infilon Technologies is the best IOT Development Company in Ahmedabad which provides 100% Clients Satisfaction. For Further Info visit our site.